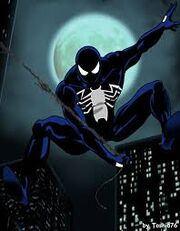 When the evil Venom Symbiote attached onto Spider-Man , Spidey realized his new suit was granting him an evil brain!
Spidey rid the black goo of himself and returned to normal life, but he didn't know that the alien would haunt him forever...
Into Battle
Edit
When Mysterio scatters the tablet of Order and Chaos, Madame Webb re-creates the Ultimate Dimension, where Spidey keeps and admires the goo for a longer period of time to help collect the fragments of the tablet.
Madame Webb uses her powers to rid the black suit of the ability to anger Peter, calming the alternate Peter and convincing him to use it.