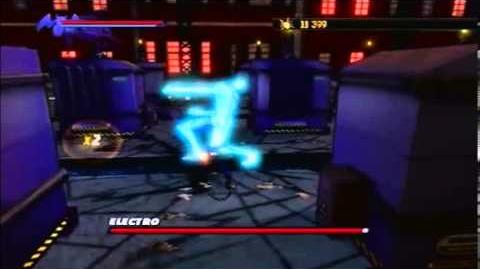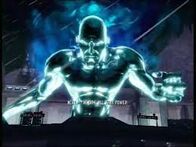 After being horrribly shocked on an electrical wire, a New York worker was given the power to turn himself into a man of pure energy, he could also control electricity, shoot beams out of his hand, fly, and morph his energy into powerful allies!
In the Ultimate Dimension, Electro finds a fragment that can give him more electrical energy... this would make him stronger than ever!
Battle in Black
Edit
Madame Webb assists Ultimate Spider-Man in tracking down Electro to Canada, Spidey finds him and persues him onto a torn-down bridge. But Electro dosen't know that he chose a battleground poorly, because Ultimate Spider-Man webs a wall, and pulls it down to reveal a dam, which runs through Electro, putting his electricity out and possibly killing Max Dylan.
Once again, Spidey returns the fragment to Madame Webb.